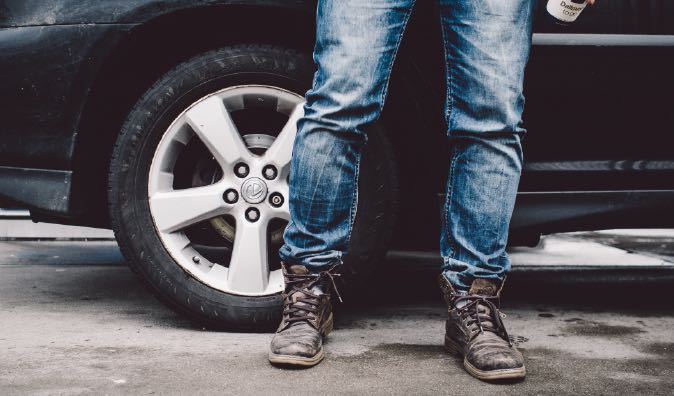 MOBILE BLEED BRAKES AT YOUR HOME OR OFFICE
We bleed the brakes to release air that sometimes becomes trapped within the lines. Technically, air only enters the lines if there is a compromise of the system's sealing, because when fluid boils, it will instead create fluid vapor. Vapor in the brake fluid, like air, will create an efficiency loss in the braking system.
Brakes are bled or purged for one of two reasons:
To remove air bubbles from the brake system - Air in the system causes a breakdown in this communication. Input forces created by operating the brake lever can no longer be transmitted effectively as these forces are wasted as the air inside the system is compressed.
To replace the brake fluid with new - Part of the general maintenance and upkeep of your hydraulic brake is to periodically change the brake fluid. Over time your brake fluid will become old and discoloured as it takes on contaminates from the environment. Dirt, air, and water can and will find their way in eventually.
WHAT IS BLEED BRAKES?
Bleeding the brakes means removing the air from the brake line. This ensures that the brakes are in excellent condition and will work properly every time you hit the brake pedal. Over time, small amounts of air become trapped within the brake line. This can lead to spongy brakes or a brake pedal that goes almost to the floor before engaging. This can create a dangerous condition and should be addressed as soon as it becomes apparent. If the braking system ends up with large amounts of air in it, a complete braking failure is possible.
HOW IS BLEED BRAKES DONE?
If your vehicle has squishy-feeling brakes, the way to get the air out of the lines is to bleed the brakes. To do the job, you need either a brake bleeder wrench or a combination wrench that fits the bleeder nozzle on your vehicle, a can of the proper brake fluid, a clean glass jar, and a professional mechanic from Wrench.
RECOMMENDATIONS
Few European vehicles recommend replacement on a semi-regular basis for other reasons, so be sure to check in your owner's manual for your particular application.
SYMPTOMS THAT INDICATE YOU NEED A BLEED BRAKES
Burning Smell While Driving
Spongy or Soft Brake Pedal
Leaking Fluid
Car Pulling to One Side When Braking
Brake Light On
Squealing, Squeaking or Grinding Noises
Brake parts wear out over time. Self-diagnosing symptoms or delaying brake servicing could put you and your passengers at unnecessary risk. And like with a lot of automotive issues, if there is a problem, the longer you put it off the more you risk big repair bills. Get a brake check from Wrench mobile mechanic before your next road trip.
---
---
---
---
Auto Repairs for Popular Vehicles