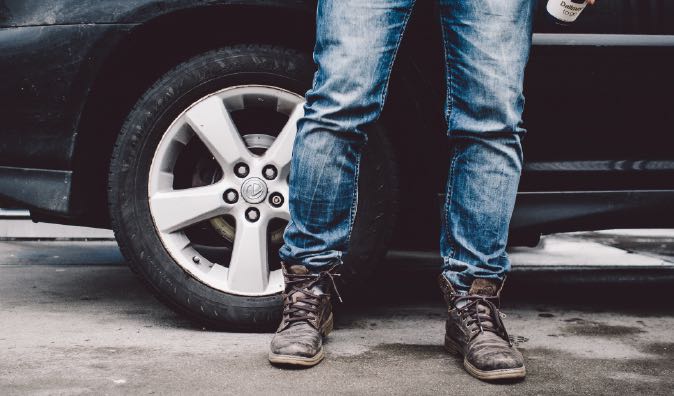 MOBILE CHECK TIRE PRESSURE AT YOUR HOME OR OFFICE
If you're wondering why your gas mileage has seemed a little lower than normal lately, or why your steering seems a little sluggish when you're behind the wheel, or even why your car just seems to be sitting closer to the ground than normal, it's going to be helpful to start with the only components of your vehicle that should be touching the road: the tires. You might have an issue with inflation. Having the correct tire pressure is extremely important for getting good gas mileage and the most life out of your tires.
WHAT IS CHECK TIRE PRESSURE?
The rubber your car rides on takes on an unprecedented role in car control, safety and comfort. For this reason your tires deserve your full attention. It is crucial to ensure that your car's tires are inflated to their proper PSI, which is the standard rating for air pressure within a tire. This number can generally be found on the driver's door jamb or inside your owner's manual, but be sure to ask your local auto maintenance service what the proper rating is for any new tires you may purchase for your vehicle.
HOW IS CHECK TIRE PRESSURE DONE?
Start with cold tires if possible
Check the manufacturer's recommended PSI
Write down the psi for each tire
Check tire pressure with your gauge
Fill to the recommended PSI
RECOMMENDATIONS
To ensure your car's tires are properly inflated find out what their recommended PSI is and then use a quality air pressure gauge to measure it from time to time.
SYMPTOMS THAT INDICATE YOU NEED A CHECK TIRE PRESSURE
Maneuverability
Lower Fuel Economy
Stopping Distance
Flapping Sound
If you're in need of checking tire pressure, Wrench can help. Our mobile mechanics make arrangements to provide services at a time and place that is convenient for you, keeping you on the road with minimal impact on your schedule.
---
---
---
---
Auto Repairs for Popular Vehicles